Cannon Beach is a stunning area when it comes to lush forests and misty coastal beaches. It is an absolute dream-come-true for any adventurer and offers a wide variety of outdoorsy activities, but did you know it also had some of the best food on the West Coast? Arch Cape restaurants use fresh and organic products and provide an upscale quality you can only encounter there. Get a taste of the Oregon coast and discover a variety of savory dishes that will satisfy your cravings. Spend your day hiking in the woods and relax at night at these five best Arch Cape Restaurants!
Make your vacation worry-free and download our free Vacation Guide for all the best local recommendations! Discover even more gourmet Arch Cape restaurants, exciting hiking adventures, fun events, quaint shops, and more! Explore the best of the Oregon Coast during your vacation at Arch Cape Inn & Retreat and make memories with the ones you love!
Experience the Best of Oregon Cuisine at These 5 Best Arch Cape Restaurants
Newmans at 988
Have a magical night at Newmans at 988! Dine in an intimate and elegant setting and taste some of the best of Italian and French cuisine. Their menu includes dishes like lobster ravioli, duck a l'orange, marinated lamb rack, and char-grilled portabella. The food is marvelously presented, and the quality is simply sumptuous. It's a restaurant you want to experience at least once during your stay at Arch Cape Inn & Retreat!
Castaways
Go to Castaways if you are longing for an authentic beach-feel experience. Their tropical atmosphere can transport you to warmer hemispheres with each bite!  Sip a Mai-tai and try their famous coconut prawns and haystack chicken. You can almost hear the sound of crystal blue water waves crashing at your feet!
The Irish Table
If you prefer a fancier option, the Irish Table is the place for you. Their Northern-Pacific and Irish fusion dishes vary every season and use locally sourced products to guarantee freshness. Start your dinner with the curried mussels and a cheese board and let yourself be tempted by the chef's suggestion of the day. Don't forget to take a look at their whiskey and beer selection.
Sweet Basil's Cafe & Wine Bar
Sweet Basil's is perfect if you want to take your better half on a romantic night out. Their tapas and Cajun dishes are made in the original Creole tradition. Their menu also features healthier and lighter options such as vegetarian wraps and salads. They also offer a top-notch wine selection!
The Wayfarer
The Wayfarer is known for their fresh and high quality local cuisine.  They pride themselves on their simple Northwest fare, highlighting the local cuisine the Oregon Coast is known for.  Their seasonal deck is also one of the few places from which the ocean beaches are visible, making it a favorite for visitors and locals alike!
Unwind for a Weekend at Arch Cape Inn & Retreat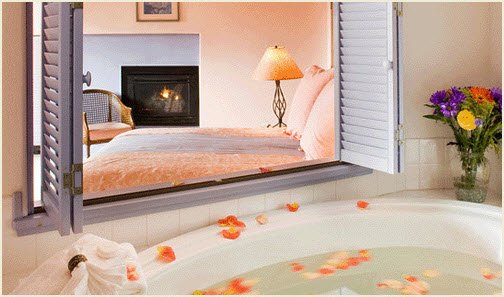 After a splendid night out at one of these five best Arch Cape restaurants, come home to a comfortable room at Arch Cape Inn & Retreat. Our elegant accommodations are the perfect home-away-from-home for you and your significant other. Book our Gauguin Room and relax in a soothing atmosphere. The pastel walls will calm the stress of everyday life and allow you to unplug for a weekend. Take a hot bath in your private bathroom, nestle up by the fireplace with a glass of wine in hand, and wake up the next morning to a stunning ocean view. Start the day with a delicious homemade breakfast in our intimate dining room overlooking the garden. There's nothing better than a cup of our special signature coffee to start the day! Take a long morning walk on the beach and get ready for your next Cannon Beach adventure!
Book your stay today at Arch Cape Inn & Retreat and have a restful weekend with the one you love!