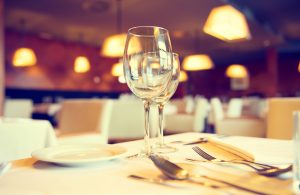 We're all about great culinary experiences here on the Oregon Coast.  Not only do we start your day off with an extraordinary and locally-sourced Northwest-style breakfast, but Cannon Beach boasts some truly delicious eats.  Take your coastal culinary adventure one step farther, and enjoy an incredible and educational dinner show.  There are few things that can beat great meals, especially when combined with a luxurious getaway to Oregon's Cannon Beach.  Gather up a few of your best friends, or bring your special someone along.  Book your room at our boutique hotel near Cannon Beach today, and experience the coast like never before!
EVOO's Dinner Show in Cannon Beach
The art galleries, the quaint shops, the wide and welcoming beach, and even iconic Haystack Rock with its tide pools and seabirds, are all excellent reasons to visit Cannon Beach, and they certainly rank amongst the top attractions to the area.  However, there's more to Cannon Beach than beaches and art. Some people come here to take part in life's simpler pleasures. There's one in particular that we tend to overlook, and that is enjoying a simple, yet satisfying, meal. Maybe you need a little guidance in this department, or you just want some fresh ideas? EVOO in Cannon Beach can help!
EVOO offers a series of fun and educational cooking classes, but they are perhaps best known for their interactive chef-led Dinner Shows. It's a great chance to listen to these experienced chefs, to learn from them, to watch them work their culinary magic, and to enjoy the fruits of their labor.  Their Dinner Show, which is put on five nights a week, is a true culinary delight.  The dinner show is an intimate experience, and is limited in size.  You'll definitely want to book this experience ahead of time, but it's worth the effort.  The dinner Show at EVOO combines a spectacular three-course meal, each dish perfectly paired with local wines, along with all the entertainment and culinary tips you can imagine.  After dinner, enjoy a delicious dessert before browsing their delightful culinary gift shop.
When you're ready to wind down for the evening, come home to the Arch Cape Inn and Retreat.  We're located just south of Cannon Beach, and offer all of the luxury amenities you'd expect from finer hotels. In addition to all of this, you'll enjoy a gourmet multi-course breakfast, and an exquisite wine social in the afternoon.  Book your stay with us today, and experience once of the world's most romantic coastal destinations this fall.