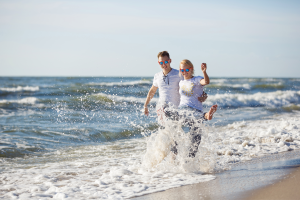 We know it's hard to believe, but summer in the beautiful Pacific Northwest is coming to a rapid close.  By the end of the month, schools around the region will be heading back to school, and the days of summer vacations spent at the Oregon Coast will be gone for another year. If you haven't yet been to this ruggedly beautiful coastline, you shouldn't wait for another second.  In 2013, National Geographic included Cannon Beach on its list of "The World's 100 Most Beautiful Places."A charming small town, beautiful beaches, a thriving arts community, plenty of delicious food, and an incredible range of outdoor recreation: It's no wonder the coast is such a popular getaway destination! On the Oregon Coast, our romantic Inn outshines the rest.  Book your room with us today, and discover why we've been named a top 10 romantic coastal destination.
A Coastal Getaway
It's difficult to pick one single reason why you should visit the Oregon Coast, but we can certainly start to etch out the beginnings of an extraordinary vacation. Hundreds of miles of rugged cliffs, scenic beaches, and quaint towns put romance front and center in the hearts and minds of those at the Oregon Coast.  Quietly take a moment to let your feet sink into the sand beneath you, while filling up your lungs with that fresh, salty sea air.  The feeling you'll get is at once invigorating and rejuvenating, and a quintessential part of the Oregon Coast experience.
If you want to pack a little adventure into your summer getaway in Cannon Beach, there's plenty to choose from. Imagine a day spent exploring colorful tide pools teeming with life, or watching the brightly colored birds nesting in the rocks above and around you. Haystack Rock is the most popular and iconic destination for both, but anywhere along this rocky coast will do.  Other great places to explore on the coast include Ecola State Park, Arcadia Beach, Hug Point, and Oswald West State Park.
Small Town Coastal Charm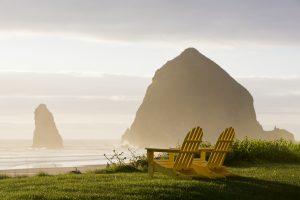 If meandering down the coastal beaches and hiking through the wooded hillsides isn't enough to keep you busy during your summer getaway, the charming coastal town of Cannon Beach certainly will. Cannon Beach is one of the most picturesque beach towns along the Oregon Coast, and a quick stroll down the quaint sidewalks of town reveal why. Local art galleries offer original works by some of the most successful local, regional ­and nationally-known artists, and tax-free shopping makes it easy to indulge in art and other goodies found in the town's locally owned shops.  Thanks to strict regulations in town, there aren't large chain stores or restaurants here that you might find elsewhere.  It's just part of the charm of coastal living, and we wouldn't have it any other way!
As the day fades gradually into night, watch the sunset drift below the expansive horizon in front of you, followed up later by the warm glow of a beach fire. The Arch Cape Inn and Retreat is an incredible boutique hotel, and the perfect place to spend your romantic summer getaway.  We're located just south of Cannon Beach, and offer all of the luxury amenities you'd expect from finer hotels. In addition to all of this, you'll enjoy a gourmet multi-course breakfast, and an exquisite wine social in the afternoon.  Book your stay with us today, and experience once of the world's most romantic coastal destinations during these final, glowing days of summer.