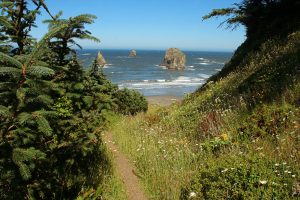 Mother's natures abundance is on full display during the summer months on Oregon's picturesque coast.  From the towering, jagged heights of Haystack Rock to the dramatic caves and waterfalls at Hug Point, Cannon Beach is an exciting and beautiful place to spend a relaxing few days this summer. Cannon Beach is best known for its expansive beaches that stretch for miles before you, but there's so much more to explore.  Here, you can discover some of the Pacific Northwest's most scenic hiking trails and take in some of the best views of the Oregon Coast's iconic rocky shoreline.  Enjoy your own little slice of heaven near Cannon Beach at the Arch Cape Inn Bed and Breakfast.  Book your summer getaway with us today, and see for yourself the unparalleled beauty of the Oregon Coast this summer.
Hiking Trails Near Cannon Beach
Whether you want to walk through the wildflower-covered meadows, meander through lush rainforest and old-growth Sitka Spruce, or soak up stunning ocean views, there is a hiking trail for you.  We always have recommendations for guests staying with us, but here are a few of our favorites:
Our Bed and Breakfast near Cannon Beach is a sanctuary for the soul.  Take a deep breath of Oregon's fresh air and rejuvenate your spirit on Cannon Beach's best hiking trails.  Book your rooms with us this summer, and discover (or rediscover) the unparalleled beauty of the Oregon Coast.