What is it that makes the Oregon Coast such a special place? Certainly, part of what is so special about the Cannon Beach area are the dramatic rock formations and stunning vistas up and down the Coastline.  There are places, like Cannon Beach's iconic Haystack Rock and the Tillamook Head that are forever etched in our hearts and minds.  Combined, that's enough to earn Cannon Beach a place on the National Geographic's 2013 list of "The World's 100 Most Beautiful Places."  We may not be able to pick one single outstanding reason why the Oregon Coast is such a special place, but we can certainly start to etch out the beginnings to what will surely be an extraordinary vacation.  Book your room at our beach side retreat, and decide for yourself what it is that is so special about summertime on the Oregon Coast.
Summer on the Oregon Coast
In answering the question "What is so special about the Oregon Coast?", there are many factors to explore.  The unparalleled natural beauty is certainly a big part of it.  But, it's more than that.  Spectacular beauty is one thing, but there's also a special undercurrent to daily living on the coast.
Imagine a day spent exploring colorful tide pools teeming with life and watching the brightly colored birds nesting in the rocks above and around you.  Take a break only to stroll along what seem to be endless stretches of sandy beaches.  Quietly take a moment to let your feet sink into the sand beneath you, while filling up your lungs with that fresh, salty sea air.  Life really doesn't get much better than that.  It's at once invigorating and rejuvenating.  As the day fades gradually into night, watch the sunset drift below the expansive horizon in front of you, followed up later by the warm glow of a beach fire.  Our favorite places for these activities include:
Small Town Charm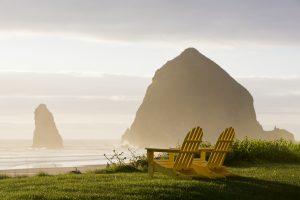 If the experience on local beaches isn't enough to keep you satisfied, the charming coastal town of Cannon Beach certainly will. Cannon Beach is one of the most picturesque beach town along the Oregon Coast, and a quick stroll down the quaint sidewalks of town reveal why.  Colorful flowers will great you everywhere you turn.  Local art galleries offer original works by some of the most successful local, regional ­and nationally-known artists, and tax-free shopping makes it easy to indulge.  Thanks to strict regulations in town, there aren't large chain stores or restaurants here that you might find elsewhere.  Instead, take your time exploring this charming little town by the sea.   Discover the numerous art galleries, boutique shops, restaurants, and public art fixtures.
Simply put, what it is that makes the Oregon Coast so special is the sense of serenity you'll enjoy along these rocky shores.  Let us help you make the most of your time on the Oregon Coast.  Our boutique hotel, where Oregon's coastal beauty takes center stage, is unlike any other.  Don't hesitate; book your stay with us today!