Neahkahnie Mystery, Romance and Adventure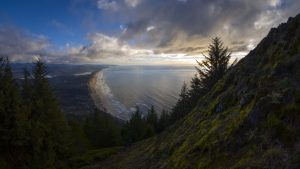 The Arch Cape Inn and Retreat sits nestled at the base of Neahkahnie Mountain.
Regarding Neahkahnie Mountain, there is a lot more to it than meets the eye.
In addition to being one of the most spectacular volcanic outcroppings on the coast, looming up through one of the World's Only Temperate Rain Forests, local legend has it that in the 1600's a Spanish galleon came to the area, carrying murder, treasure and mystery.  According to this lore, a chest of gold was buried somewhere on the Mountain.  People still hunt for it until this day.
Click here to learn more about Offbeat Oregon History.
Come stay with us at the Inn
After a luxurious 3-course breakfast, we will help you explore the Mountain, which you can do via a hike or by vehicle.  By vehicle, there are many paved roads to explore across the Mountain.  By foot, the hiking options are wide and varied…..this is the only way you can hunt for gold!  For more information about our Hike of the Month click here.
Kissable Moment Recommendation: Oswald West State Park.
Hike or drive your heart out… and return at the end of the day for a cozy fire, good friends and food and wine.