People from hundreds of miles around come to the Oregon Coast to relax and renew their spirits, leaving behind the chaos of our over-connected modern lives. Our beautiful shorelines are the ideal place for you to escape at! If you are a nature lover, it's going to be your next favorite destination. Explore Cannon Beach tide pools and their rich ecosystem, take pictures of their colorful shapes, and learn more about Oregon's wildlife while staying at Arch Cape Inn! Read on to find out more about Cannon Beach tide pools and start planning your visit today!
If you like exploring Cannon Beach tide pools, you are going to love all the other activities available around Arch Cape Inn! Download our free Vacation Guide and get the best recommendations that will help you navigate the area like a local. This tool has helped many travelers cut their planning time in half, and we want the same for you! Here are all the things you can find in our guide:
Explore The Hidden World of Oregon's Tide Pools!
What Are Tide Pools?
Cannon Beach tide pools are one of the biggest attractions here on the Oregon coastline. These small pools of rock and seawater are filled with colorful plants and anemones, with all sorts of shapes and configurations. They are one of the most beautiful display of nature you can witness on this planet, and we have some of the best right here in Cannon Beach! Wait for the low tide to come and let it uncover a whole world of undersea wonders!
What Can I See At The Tide Pools?
The most common inhabitants of the Cannon Beach tide pools are the giant green and aggregating anemones. You can see colorful Starfish, and the sharpest are purple sea urchins and barnacle! Other common tide pool residents include hermit and shore crabs, small fish, sea snails, limpets, chiton, and mussels.  Though you may not think of them as living creatures, tide pools are also home to some incredible oceanic plant life, including algae, rockweed, sea lettuce, kelp, and other seaweeds.
Where To Find The Best Cannon Beach Tide Pools?
The best tide pools in the Cannon Beach area are those found at Haystack Rock, a state-designated Marine Garden. However, they can get very crowded! There are also excellent tide pools at Ecola State Park, and just to the south at Oswald West State Park.  If you want to maximize your day of exploring, plan to arrive at the tide pools about an hour before low tide. This will give you ample time to explore before the waters come rushing back in!
Relax and Unwind at Arch Cape Inn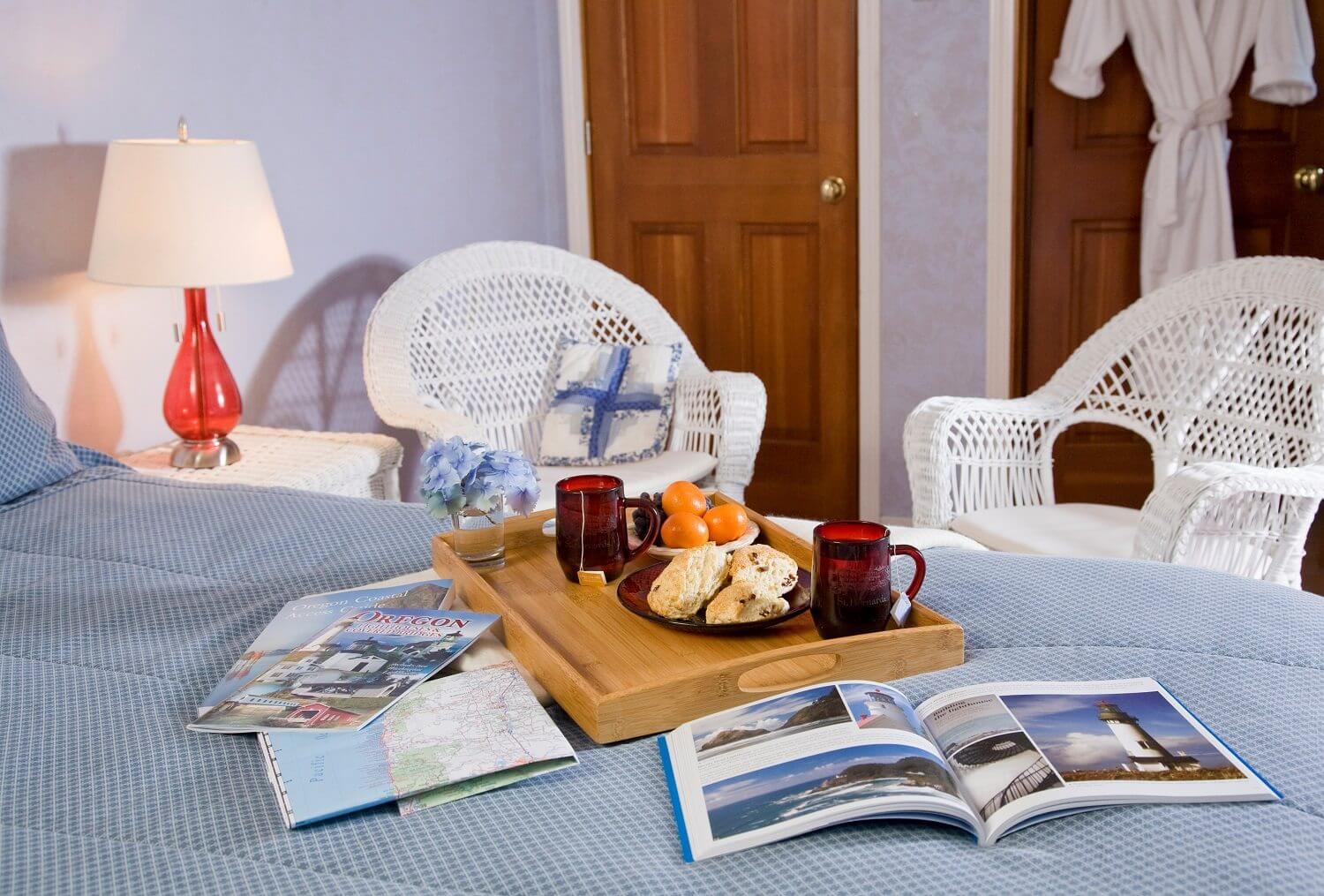 After spending the day exploring Cannon Beach tide pools, come home to a cozy room at Arch Cape Inn. Our beautiful accommodations are the romantic haven you've been looking for you and your significant other for months! Our authentic and charming amenities will make you feel right at home, and the view of the ocean in the distance will enchant you!
Book our Lighthouse room and dive in deeper Cannon Beach's underwater universe. This lovely garden room has its private sitting deck as well as a private bathroom with a stall shower. Get the best night of sleep you've had in years in our comfy queen bed, and wake up the next morning with a delicious homemade breakfast!
Book your stay today at Arch Cape Inn! We look forward to hosting you.