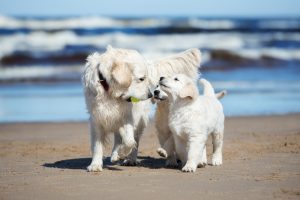 Labor Day is coming up quickly, which means summer is coming to a rapid close here on Cannon Beach.  Fortunately, there is still plenty of time left to come to the Oregon Coast, and to discover the dramatic rock formations and stunning vistas up and down the Coastline. Let places like Cannon Beach's iconic Haystack Rock and the Tillamook Head captivate your hearts and minds, and spend a few perfect days with us at the Arch Cape Inn & Retreat. The Arch Cape Inn, just south of the Cannon Beach area, is a true summer retreat perfect for those looking for a romantic few days by the sea. If it's possible to get even better, we are a pet friendly lodging property, allowing for you to enjoy the splendor of the Oregon Coast with your best friend.  Book your final summer getaway with us today!
Pet Friendly Cannon Beach
At the Arch Cape Inn, we know how difficult it can be to find pet friendly lodging anywhere, but especially on the popular Oregon Coast.  We offer 3 pet-friendly guest rooms, each with tiled floors and special rugs and bedding for your pets.  Each room also has its own exterior, ground-floor entrance for your convenience.  Your time with your pet doesn't have to be confined to our property, though.  There are plenty of places in and near Cannon Beach that are pet friendly as well.  Here are a few ideas of places you can go together:
Pet Friendly Restaurants
Pet Friendly Trails & Parks
Pet friendly beaches
With these pet friendly destinations and our pet friendly accommodations, there's no reason to leave your beloved pets at home.  Bring them with you, and have the time of your life at the Oregon Coast this summer.  Book your room with us today, and make sure to tell us all about your pets when you do!