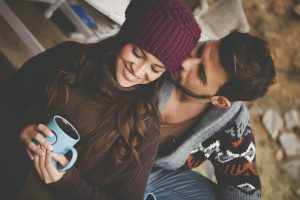 When it comes to romantic destinations in the Pacific Northwest, the Oregon Coast simply can't be beat.  For many of us, it seems counter-intuitive to head to the beach in the middle of these cold, stormy, winter months.  But, as with most things, the Oregon Coast is different.  Different in it's quirky, wonderful way, of course.  These stormy winter months also afford you the opportunity to curl up with your special someone, and dedicate time to nothing but romance.  When it comes to the Oregon Coast, there's one romantic getaway destination that outshines the rest, and that is the Arch Cape Inn & Retreat.  Book your room with us today, and discover romance on the Oregon Coast.
Find Romance at Arch Cape
From quiet strolls on the beach to intimate dinners for two, it's easy to discover your romantic side on the Oregon Coast. Hundreds of miles of rugged cliffs, scenic beaches, and quaint towns lend an incredibly romantic setting to the Oregon Coast. Whether you simply want to carve out dedicated time for each other, or whether you're celebrating an anniversary, honeymoon, babymoon, or other special occasion, come discover why the Arch Cape Inn is the perfect destination for romance.  Valentine's Day is just around the corner, so there's no better time to surprise your special someone with a getaway for two.  Stoke the flames of romance with these wonderful ideas:
Get adventurous together as you explore and discover all its natural wonders the Oregon Coast has to offer.  Whether it's walking in the footsteps of the Lewis & Clark expedition as you wander down the historic Oregon Coast Trail, or taking in the spectacular views of the Pacific Ocean, there's no shortage of adventures on the Coast.
Take a long walk and go beach combing along the beach.
Discover tide pools teeming with wildlife.
Go whale watching.  Winter is the perfect season to witness the majestic migration of gray whales up the coast.
Pamper each other with a massage or hot stone treatment at the Cannon Beach Spa.  Afterwards, indulge in the top-notch international chocolates and homemade desserts at the Chocolate Café.  You can also choose to enjoy your massage in your own room at the Arch Cape Inn.
Warm each other up with a hug at Hug Point.
Peruse the incredible selection of wines at The Wine Shack, and then bring them back to the Inn for an indulgent evening with just the two of you.
Enjoy an incredible dinner at the intimate Newmans at 988.
Gaze into the stunning coastal sunsets from the comfort of your room at the Arch Cape Inn.
There's no doubt that our Oregon Bed and Breakfast is the only choice for romance on the Oregon Coast.  Take advantage of our package specials today, and experience the Oregon Coast like never before.  We look forward to helping you make this a getaway you won't soon forget.