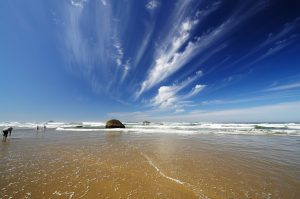 Though the final few days of summer are here and fall is descending rapidly upon the Oregon Coast, there are still plenty of wonderful days left for a little time at the beach.  In fact, there's never a bad time of year for a trip to the Oregon Coast.  Even the rainiest and stormiest of days have a special quality to them that can't be explained until you experience it.  The Arch Cape Inn & Retreat is the perfect cozy seaside escape near Cannon Beach this fall.  Just 1/2 mile away from our Inn, you'll find access to the wondrous sea caves and the secluded, expansive beach at Hug Point.  It's a retreat so special you'll feel like you have it all to yourself.  Book your stay at our Oregon Bed and Breakfast today, and enjoy what marks the beginning of the coast's quiet season. 
Hug Point State Recreation Area
Hug Point State Recreation Area, located a few miles south of Cannon Beach, is just a short 1/2 mile from the Arch Cape Inn Bed and Breakfast.  Hug Point is so named because of the stagecoaches that once traveled along the beach, long before the coastal highway existed. Hugging the point along the beach was the only way to travel down the coast in those early pioneer days.  The early trail taken by settlers can still be walked today, just north of the parking lot at Hug Point.  Today, it's a wonderful place to escape the crowds common on the more popular beaches to the north, though you do want to be mindful of the tides for maximum enjoyment.  With the exception of a few surfers braving the cold waters, you'll likely find you have the beach to yourself. Explore to your hearts content.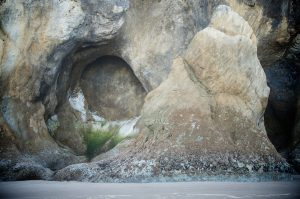 At lower tides, walk north just around Hug Point itself.  You'll find some beautiful sea caves worth exploring, as well as a small waterfall that gets bigger as the rainy season gets longer.  From here you can also spot the wheel ruts from the original stagecoach road dug into the rocks of the cliffside.  There are also exceptional tide pools at Hug Point, full of sea anemones, starfish and an array of other small sea creatures worthy of your time.  Be mindful of the tides during this portion of the trip and be back on the beach before high tide traps you on the rocks.
After a wonderful day spent at Hug Point, come back to the Arch Cape Inn & Retreat to enjoy a tasting of special wines and appetizers in our cozy sitting room.  You'll enjoy the pristine ocean views and luxurious amenities found at our boutique hotel.  It's truly an Inn like no other on the Oregon Coast.  Book your room with us today, so you can experience the magic of Hug Point this fall.