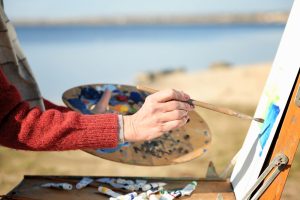 Not many people that need an excuse to visit the Oregon Coast. Often, the scenic beauty and relaxing ambiance of the coast are enough to draw in the crowds, especially as we creep ever closer to the glorious months of summer.  You may not need a reason to spend time at the coast, but sometimes we need an excuse to step out of our busy lives at home, and into an atmosphere that is, at once, more calming and relaxing than you can imagine.  Is the fresh, coastal air calling your name? These Spring festivals offer exactly the excuse you need to getaway to the Cannon Beach area.  Book a stay at our coastal retreat today, and enjoy these delightful coastal festivals while you're here.
Spring Festivals
There are three wonderful festivals and events happening in May and June in Cannon Beach that you should get on your calendar.  Each of them is unique in and of itself, and offers a superb excuse to whisk yourself away for a luxurious retreat on Oregon's expansive coast.
Spring Unveiling Arts Festival
The first festival on the calendar this spring is Cannon Beach's 17th annual Spring Unveiling Arts Festival.  This year, it will take place from May 5th-7th, 2017.  It's a wonderful time to come explore the vibrant arts community of Cannon Beach, once named one of the "100 Best Art Towns in America." Throughout this festival weekend, each Cannon Beach Art Gallery will spotlight new work by their chosen artists, thus unveiling their latest works.  With demos and receptions taking place all weekend, it's an unparalleled event for art lovers.
Get Lit at the Beach
The Get Lit at the Beach Festival takes place May 19-21st, 2017.  This event is a great opportunity for guests to meet notable authors, attend presentations and book signings as well as a keynote dinner presentation.  This year's guest authors will include Molly Gloss, Lev Grossman, Karl Marlantes, James Owen, and Terry Brooks.  The weekend will end with an exciting moderated question and answer discussion, which features all the festival authors.
Plein Air and More
From June 23-25th, 2017, Cannon Beach will once again host the Plein Air and More Art Festival.  When you combine "One of the Best Art Towns in America," with one of National Geographic's "Most Beautiful Places in the World," you end up with an extraordinary outdoor art festival.  Artists come from around the world for this festival, to experience and capture the dramatic beauty of the Oregon Coast in their artworks.  This year, the event will include nearly 50 artists, each of them creating art on location throughout the town.  For a true spectacle, don't miss the "Artists' Swarm" on Saturday afternoon, when all of the festival artists converge together to do their work right in the center of town.  The event isn't limited to just those artists working with oil, pastels, and watercolor. It also includes a variety of other artists and mediums, including bronze sculpture and stone carving, metal working, jewelry, woodworking, ceramics and fused or blown glass.
Each of these festivals is an incredible event, and the perfect excuse for a quick getaway to the Oregon Coast.  Once here, you can't beat the restful accommodations at our elegant retreat, located just south of Cannon Beach.  Book your accommodations today!