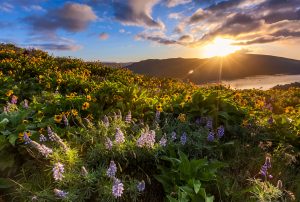 Spring is here, and it's really starting to get beautiful on the Oregon Coast.  The winter has been long and rainy this year, but that made for a great storm watching season on the coast. Despite that, there's something special about spring, and we are really looking forward to getting back out in the outdoors. This time of year, the sun begins to shine a little more, we begin the dry out, and spring wildflowers begin their slow reemergence after a long winter dormancy.  These meadows of wildflowers making an ordinarily beautiful hike into something extraordinary.  Book your stay at the Arch Cape Inn & Retreat this spring, and let us guide you into a beautiful spring meadow.
Spring Wildflowers
Spring is wildflower season on the Oregon Coast.  Here, you'll find a great variety of interesting wildflowers beginning their spring blooms.  From coastal meadows, woodlands, bluffs and beaches, there are plenty of places to go in search of these beautiful signs of spring. You'll want to be on the lookout for Trillium blooming in the rainforest in March, followed by Wood Violet, Bleeding Hearts, Wild Iris and Coast Paintbrush in meadows a little later in spring and early summer.  Here are our favorite places to go in search of wildflowers:
No matter where you go, we look forward to hearing about your adventures on the Oregon Coast.  Make sure you bring your camera, so you capture the incredible spring beauty you'll encounter.  The Wildflowers won't be here forever.  Book your room at the Arch Cape Inn Bed and Breakfast today.