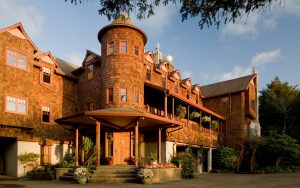 The ever-popular Travel and Leisure Magazine recently wrote an article titled "These Castle-like Hotels Will Have You Feeling Like Royalty."  It was a truly wonderful article, featuring a variety of Inns and hotels around the world.  Each property that was identified as being like a Castle was ranked based on their reviews, and are recognized as properties that provide luxury accommodations and services.  The Arch Cape Inn & Retreat is truly honored to be ranked as the 3rd best "castle-like" property on their list.  We think Travel and Leisure summed it up best when they said "Anyone who has seen the Oregon coast will understand what's naturally romantic about the region." They couldn't be more correct.  If you want to live in a world fit for a queen or king, book your stay at our romantic Bed and Breakfast on the Oregon Coast today!
A Castle on the Oregon Coast
The Arch Cape Inn & Retreat, of course, isn't really a castle.  Instead, we consider ourselves a romantic Chateau.  We have incorporated a few architectural details into our property to invoke romantic visions of staying in a Castle, though, and appreciate being compared to fairy tales.  For example, the Inn does have turrets, and thus features a circular room in that turret called the Tower Room.  In addition it's unique shape and feel, it has a luxurious soaking tub for added luxury, and a truly spectacular top-floor view of the Ocean.  To add to the opulent feel of the Inn, we have decorated certain areas with pure decadence.  For example, the romantic Gaugin Room is filled with reproductions of his paintings and offers one of the best views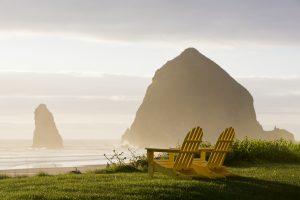 from the Inn, while the Tapestry Room showcases a stunning stained-glass ceiling.
As if the accommodations weren't luxurious enough, the Arch Cape Inn outdoes itself with food and wine.  Each morning, you can expect to wake up to what Fodor's has called a truly "lavish, 3-course breakfast."  You can expect each dish to serve up the bounty of the Pacific Northwest, with the finest seasonal produce, meats, seafood and cheeses available.  Before guests head out for dinner each evening, the Arch Cape Inn & Retreat also offers a wine social, featuring a delicious tasting of local wines and fresh appetizers.
The accommodations and luxurious amenities found at the Arch Cape Inn & Retreat are truly mesmerizing, but it's true that nothing compares to the coastal beauty of the Cannon Beach area.  Nature takes center stage on the Oregon Coast, and rightfully so.  Come see what all the fuss is about; Book your stay at the luxury castle-like accommodations at the Arch Cape Inn and Retreat today!