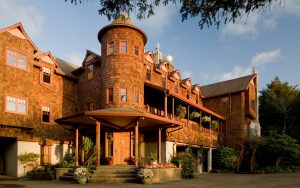 Outdoors enthusiasts have been visiting the Oregon Coast for decades.  It's truly a 4-season destination, with plenty to see and do no matter what is happening with the weather.  It's become increasingly popular to come to the Oregon Coast for winter storm watching, but even if you're here during a relatively calm time, there's more to do on the Oregon Coast than meets the eye. With so many beaches to explore, a variety of great shops to browse, a vibrant arts scene, and some truly exquisite restaurants, Cannon Beach is a wonderful destination no matter the time of year.  Come stay at our boutique hotel this winter, and discover the myriad of ways to stay warm and dry in Cannon Beach this winter.  
Winter on the Oregon Coast
It's easy to talk about the many outdoor activities one can enjoy on the Oregon Coast during the winter months. There are miles upon miles of beaches to explore, and some truly wonderful trails to meander along.  But what if you don't enjoy being outside in the cold and wet weather that's so common on the coast? That's perfectly ok!  There's plenty for you here, too. Here are our favorite ways to stay warm and dry while in Cannon Beach during the cold winter months:
Whether you choose to enjoy the incredible winter scene on our beaches, or whether you'd rather stay warm and dry in the town's incredible, shops and restaurants, nothing beats a winter getaway to the stunning Arch Cape Inn & Retreat.  Our boutique hotel, located just south of downtown Cannon Beach, is like no other on Oregon's coast.  It's an experience you must certainly appreciate for yourself.  Book your stay at our boutique hotel today, and discover what's waiting for you on the Coast.