There are few places in the world that use storm watching as a draw to lure guests to the area.  Indeed, to many tourists it seems counter-intuitive to head to the beach in the middle of these cold, stormy, winter months.  But, as with most things, Oregon is different.  It's unique, to say the least, but storm watching on the Oregon Coast is a magical, awe-inspiring experience that you really must have at least once in your lifetime. With abundant and easy access to the Pacific beaches, it isn't difficult to find a spot to stare, in awe of nature's fearsome wrath.  Book a room at the Arch Cape Inn & Retreat, and get ready for a truly awesome adventure on Oregon's Coast this winter.  
Storm Watching Made Easy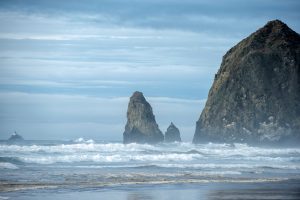 Storm watching on the Oregon Coast has become a popular phenomenon for those in the know, and that is in part thanks to the truly powerful storms that hit our area.  In fact, a little ways south of Cannon Beach, there is a basalt outcropping called Cape Foulweather; an aptly-named cape for the foul weather that finds its way to our shores!  Though the weather may indeed be foul, there are few things more beautiful than a storm front rolling in over the Pacific Ocean.  As the wind howls, the waves crash, and ominous clouds fill the sky, it's time to sit back and watch Mother Nature's show play out.  A great place to view this from a distance is along the road as you travel up Neahkahnie Mountain. Ecola State Park also offers the best view of the decommissioned Tillamook Rock lighthouse, nicknamed Terrible Tilly.
That brings us back to why you should make the Arch Cape Inn your storm watching retreat.  Imagine watching frothy waves and horizontal rain as you sip hot chocolate by the fire at our cozy Inn.  It sounds pretty luxurious, doesn't it? Throw in some board games, a good book, and great company, and you've managed to plan the perfect storm watching weekend in the Pacific Northwest.  When the storm has passed and it's safe again to venture outside, don't miss your opportunity for a walk along Oregon's secluded beaches.  The fiercely powerful waves often bring untold treasures onto the beaches.  Don't miss out on this season of storm watching on the Oregon Coast.  Book your stay with us today!