Arch Cape, Oregon is a secluded area 4 miles south of Cannon Beach, and 7 miles north of Manzanita.
Direct Routes to Arch Cape Inn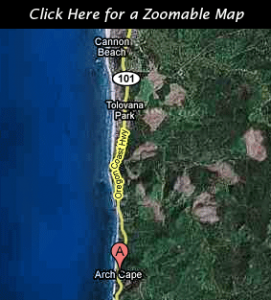 From Seattle (200 mi):
Follow I-5 south to Longview, then drive west, crossing into Oregon via Longview's Lewis & Clark bridge. Follow Highway 30 west to Astoria and then Highway 101 south, passing Seaside and Cannon Beach. Upon entering Arch Cape, the speed will change to 50mph. You will see St. Peter the Fisherman's Church on the left….we are 2 driveways past St. Peter's on the same side of the road.. Turn left onto East Ocean Lane.
An alternative, scenic route from Seattle via Hwy 101 is described below….same driving time…more serene.
From the Portland Airport (105 miles):
Take Airport Way to I-205. Go south on I-205 towards Portland for about 2-3 miles. Get on I-84 West towards Portland for about 10 miles. Move to far left lane. Take I-5 South towards Salem for about 2 miles. Get in the far left hand lane to exit for Beaverton. Take I-405 towards Beaverton for about ½ mile. Move to far right lane. Take Sunset Highway 26 West to "Ocean Beaches".
From Portland (90 mi):
Follow Sunset Highway 26 west for about 78 miles to the Highway 101 junction. The Arch Cape Inn and Retreat is exactly 10 miles from this junction. Turn south, passing four Cannon Beach exits.  One mile after the sign for Arch Cape turn left onto East Ocean Lane, which is 2 driveways past St. Peter the Fisherman's  Church and on the same side of the road. When traveling south on 101, if you miss our lane, you will see a huge tunnel….don't enter the tunnel! You have gone 200 yds too far south.
From Coastal Southern Oregon:
Travel north on Highway 101 to Manzanita. We are located 7 miles north of Manzanita. When leaving Manzanita, you will enter the huge tunnel that runs through Neahkahnie Mountain. As soon as you leave the tunnel, in about 200 yards, look to the right (east) and you will see our castle on the hill, across from the old Deli. Turn right on East Ocean Lane into our drive. When traveling north on Hwy 101, entering the tunnel is GOOD … we are about 200 yds north of the tunnel. If you bypass our lane, you will see St. Peter the Fisherman's Church on the right.  Turn around in the parking lot and return to East Ocean Lane.
If You Want to Learn a Bit About the Journey, Print This Page To Take With You…
From Portland:
Tour Guide Note
As you land in Portland, you cannot help but see Mt. Hood, a dormant volcano, which defines our landscape along the Cascade Mountain Range, part of the volcanic "Ring of Fire" — a crack in the Earth's crust — resulting in volcanoes that stretch from South America, through Mexico, into the Western United States and Alaska and over to Asia, Japan and down to the Tonga Trench. This seismic and volcanic activity influences our daily life here in the Pacific Northwest. Because of this, on the Coast, we have weekly Tsunami siren drills. (In Arch Cape, our drills sound like the mooing of a cow, while an alarm is an actual siren. We will fill you in on this when you get here.)
If you look North across the Columbia River, you will see Mt. St. Helens, which used to look exactly like Mt. Hood until May, 1980, when it blew with such force as to render the landscape to seem like Mordor, in the Lord of the Rings. Mt. St. Helens still happily puffs away… even until today. The only difference between Mt. St. Helens and Mt. Hood at this point in time is that Mt. St. Helens is mostly gone and Mt. Hood, at Timberline Lodge, remains the place where "The Shining" was actually filmed.
Tour Guide Note
From the airport, you will travel on I-84….You will whiz by a landmark shopping mall..Lloyd Center,  and if you crane your neck to the right (passengers only, please), you might see the indoor skating rink where Tonya Harding practiced her moves. We hear that the movie "I, Tonya" is actually pretty interesting.
Tour Guide Note
And! On the note of famous people hailing from Portland, Ms. Harding is counted among other notables such as James Beard, Clark Gable, William Hurt, Jean Auel, Ursula Le Guin, Dallas McKennon (voice of Tony the Tiger, Gumby and Pokey), Linus Pauling, Matt Groening, Woody Guthrie, Steve Jobs and Courtney Love… We could go on and on.
Tour Guide Note
When heading out to the beach on Hwy 26, as soon as the 4-lane highway becomes a 2-lane highway, just past Hillsboro, you will know that you are skirting the northern-most border of our prominent Oregon Wine Country. In fact, on your left, you can see vineyards growing as you round the bend, as you travel onward to the Coast.
As soon as you round the bend and pass Dairy Queen, brace yourself for a 60 minute drive over the Coast Range. 
Tour Guide Note
This hour-long drive will require both hands on the wheel. You will pass through one of America's vast forested wildernesses. And one of the World's few Temperate Rain Forests. Look for Camp 18, a local landmark and restaurant that tips its hat to our colorful logging heritage, as seen in Ax Men on the History Channel. You are in the heart of the territory where this is filmed.
As soon as Hwy 26 t-bones into Hwy 101….you will turn left, heading south.
We are almost exactly 10 miles south of this junction.
From Seattle:
There is relatively no travel time difference between the direct route and this more peaceful and interesting route, except during rush hour on I-5 which greatly slows everything down, or the inordinate number of large RV's on Hwy 101 in summer, which also greatly slow everything down. 
Cut off from I-5 at Olympia at Exit 104. Go West to Montesano. At Montesano, take the  Highway 107 cut-off and head on to Highway 101.
Tour Guide Note
Stop and have homemade ice cream and pie at Clark's in Artic, Washington.
Artic….that's right…only one 'c'.
Go south to Astoria, Oregon where you will pick up Highway 26/101 and follow to Seaside/Cannon Beach.
Tour Guide Note
En route, you will see part of the Olympic Rain Forest, the fabulous Willapa Bay, oyster beds and factories, pristine glacial estuaries off of Mt. Ranier/Nisqually and Mt. St. Helens, remote forests and the Dismal Nitch. The Dairy Queen in Raymond has oysters on its menu.
You will cross over the mighty Columbia River, one of the world's largest rivers. You may even see the Columbia River Bar, which is a wall of water created where the mighty Columbia meets the expansive Pacific Ocean. Two Titans in a Death Match. (Learn about this phenomenon and the courageous people whose lives co-exist with the River at our Maritime Museum) This is the "Graveyard of the Pacific." Cape Disappointment wasn't arbitrarily named. This is where the United States Coast Guard has its international motor life boat school and elite rescue swimmer training as seen in the Kevin Costner/Ashton Kutcher movie, "The Guardian," some of which was filmed in this location. (BTW, "The Perfect Storm" was an excellent United States Coast Guard movie too.) A shout-out to the brave men and women in orange, white, and blue. As you can tell, we are grateful to the USCG here in Oregon, Washington, and Alaska, collectively known as the PNW.
Astoria is the oldest permanent settlement west of the Mississippi and was a bi-lingual Scandinavian community based around fishing, trapping and logging. It seems like a mini-San Francisco, built on beautiful hills.
From Astoria, our county's Gotham, you will have a driving time of about a 45 minutes to our Inn.
When you arrive at the inn, our innkeepers will help you plan your day trip itineraries, so that you are sure to experience all of the best that our area has to offer…..Just ask us!…Can't wait to see you!