December is nearly here, and may of us are busily engaged in the throes of another holiday season.  We can think of no better time to escape to the dramatic shores of Oregon's stunning coast, where you can relax and rejuvenate yourself at this hectic time of year.  The quiet winter months bring with them miles of secluded beaches to enjoy, nearly empty streets, shops and restaurants to browse, and the unpredictable, stormy and awe-inspiring weather that often comes our way.  These winter months also happen to offer some of the best whale watching in the Northwest.  Book your room at the Arch Cape Inn & Retreat, and experience the magical quiet of Cannon Beach in the winter.
Whale Watching Near Cannon Beach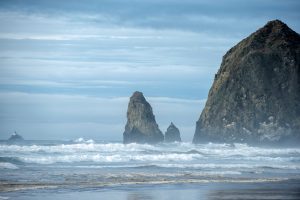 Though whale watching is possible year-round on the Oregon Coast, there's something magical about the Gray While migration during the spring and winter months.  If you've yet to experience the majestic beauty of the annual Gray Whale migration off the Oregon Coast, then now is the perfect time to plan your getaway.  The Gray Whale migration begins in November and continues throughout the winter months, peaking from mid-December to mid-January.  Gray Whales travel South out of their feedings grounds in the North towards Baja California, where the warm-water lagoons become nurseries for expectant mothers.  During that time, an estimated 18,000 of these magnificent creatures migrate just offshore, in what is considered to be the longest migration of any mammal on Earth.
Though whale watching can take place virtually anywhere there's a great view of the coastline, there are a few favorite spots from which to spot these gentle giants.  Our favorite is Ecola State Park.  Here, you'll find volunteers working with the Whale Watching Spoken Here program helping visitors look for those tell-tale whale spouts and tail slaps.  Heading out early in the morning when the light is on your back is often the easiest time to spot them as well.  You can also take a whale watching boat or helicopter tour for an up-close view of the migration.
Afterward you've had your fill of whale watching for the day, return home to a reception of afternoon wine, cider and small bites in the cozy ambiance of our welcoming Inn.  Our stunning property is like no other on the Oregon Coast.  Book your stay at our luxurious boutique hotel today, so you can experience this incredible aspect of nature with us this winter.