Weddings
A Romantic & Intimate Wedding & Event Venue in Oregon
Dreams Can Come True
Guest Quote:
"I had my wedding at Arch Cape House last weekend. Everything was amazing. The Inn was just as beautiful as I'd hoped. The food was fabulous, the service was great and the accommodations were lovely. Stephen and Cynthia were perfect hosts. They were very gracious and accommodating." –Bride from Missoula, MT
Thank you for considering the Arch Cape Inn & Retreat for your next event! For those seeking an outstanding location for a memorable Oregon wedding, the Arch Cape Inn is an ideal choice. Our Cannon Beach wedding venue can comfortably fit up to 35 guests. We are an intimate wedding venue in Oregon that specializes in offering warmth and hospitality that allows family and friends to gather in a relaxed atmosphere for your wedding. Together we will help you experience a reception that will delight both you and your guests. We are here to help make your wedding special and memorable, and with our magical setting, caring service and attention to detail, we know your wedding day will be one to remember.
Wedding and Reception Information
Our intimate wedding setting in Oregon features a beautiful garden and large cedar trellis perfect for an outdoor wedding ceremony. (A canopy tent may need to be rented as a precaution for inclement weather.) The inside Living Room and Conservatory are also beautiful choices for the ceremony and reception.
Your event will be planned as a four-hour affair. When renting the entire Inn, you may celebrate into the wee hours, if you so choose. However, we require that the catering function is ended no later than 8:30, so that we have time to clean and prepare breakfast in the morning for you!
When renting the Inn for your special day, there is an Event Service Fee that allows for the use of the entire facility, with some exclusions. Special events involve the use of the Inn in a way that is outside of our normal guest activity. Therefore, this fee will allow you to use our facility to stage your event. It also accommodates the hiring of extra staff and other necessary expenses not normally incurred by the Inn.
Our local Wedding Coordinator will coordinate the event and will stay in close communication with you as the details of the special day draw near. This is of great benefit, especially if you are planning your wedding in Cannon Beach from a distance.
Our wedding and event fees consist of four components — Lodging Rental, Event Service Fees, Catering and Alcohol Service Fees — all of which are described below.
Maximum Event Guest Count
The Inn can host parties of up to 35 guests. The Inn can provide lodging for 20 guests.
Lodging
We require that the entire inn be rented out for at least a 2-Night minimum. We have 10 rooms which can accommodate up to 20 people. All rooms have only one bed, either a king or queen mattress. The cost to reserve the rooms varies by day and season and is listed on our reservations page. A complimentary gourmet breakfast is included and is served to your guests each morning. Off-site lodging will be required for any guest count that exceeds 20.
Event Service Fees
From September 15 to June 15, the event fee is $750.00. This fee allows for the use of the entire facility, with some exclusions, in order to stage your special occasion.
Catering
We have an approved list of caterers for all on-site events. We do not allow outside caterers to provide service in our facility. Buffet or plated dinners may range from $60-$125/person plus Gratuity depending on the menu. Custom menus are created on a case-by-case basis, after which a cost estimate can be provided. Custom wedding cakes are available by request.
Alcohol Policy and Service Fee
We do not allow hard alcohol to be served on the premises. The Inn can provide fine selections of wine and beer. Any wine and beer not provided by the Inn is subject to corkage and service fees. Since Oregon is a "No-Self-Serve" state, we charge a $500 Alcohol Service Fee.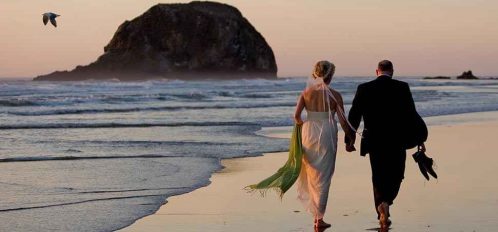 Event Calendar
The Arch Cape Inn and Retreat schedules wedding and events all year round. We require that the entire inn (10 rooms) be rented for a 2-night minimum stay on weekends, with the exception of some Holidays which may require 3 nights. Single night events and renting less than the entire Inn is restricted to Sunday-Thursday nights.
Children
If the entire Inn is rented, the entire facility may be used for the event. In this case, children under 16 are allowed as guests.
Wedding Estimate Worksheet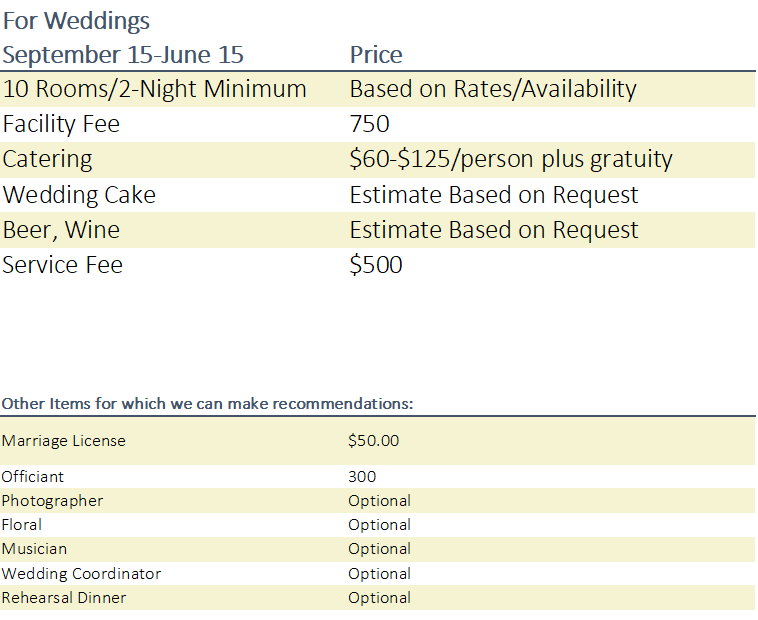 We also have many local suggestions for other outside services such as hair and make-up, spa services and entertainment. Since we have hosted so many successful celebrations, our staff is equipped to provide you with a very detailed Schedule of Events, which is a timeline that we create just for you so that your special time remains organized and flows seamlessly from the time you arrive until we have to say farewell.
Deposits
We require a non-refundable deposit in the amount of $1,000.00 to guarantee your reservation. A secondary deposit of 50% will be due in six months, or mid-way, prior to your event. Final payment is due four weeks before your wedding. All deposits are non-refundable unless the dates you have reserved are re-booked for another wedding reception.
Gift a Wedding
Are you looking for the perfect gift to give? Or the perfect registry item? Why not make the wedding or honeymoon itself a gift? If you are planning on throwing or attending a wedding at the Arch Cape Inn & Retreat we have the perfect solution for you!
Donate to a Wedding or Honeymoon
You can call us to donate to the wedding costs or towards the couple's honeymoon at Arch Cape Inn & Retreat. Just call us, email us, or purchase an instant gift certificate online.