Put the books down and stow away the maps, because we have the perfect Seattle to Cannon Beach road trip itinerary! You've probably been planning this adventure for a while, and we're here to make your dreams come true. Picture yourself driving through dramatic landscapes with 356 miles of coast to explore and numerous activities to indulge in along the way. Whether you want to take country roads and discover Portland or hit Highway 101 and marvel at the ocean, we've got you covered! 
8 Stops You Can't Miss On Your Seattle to Cannon Beach Road Trip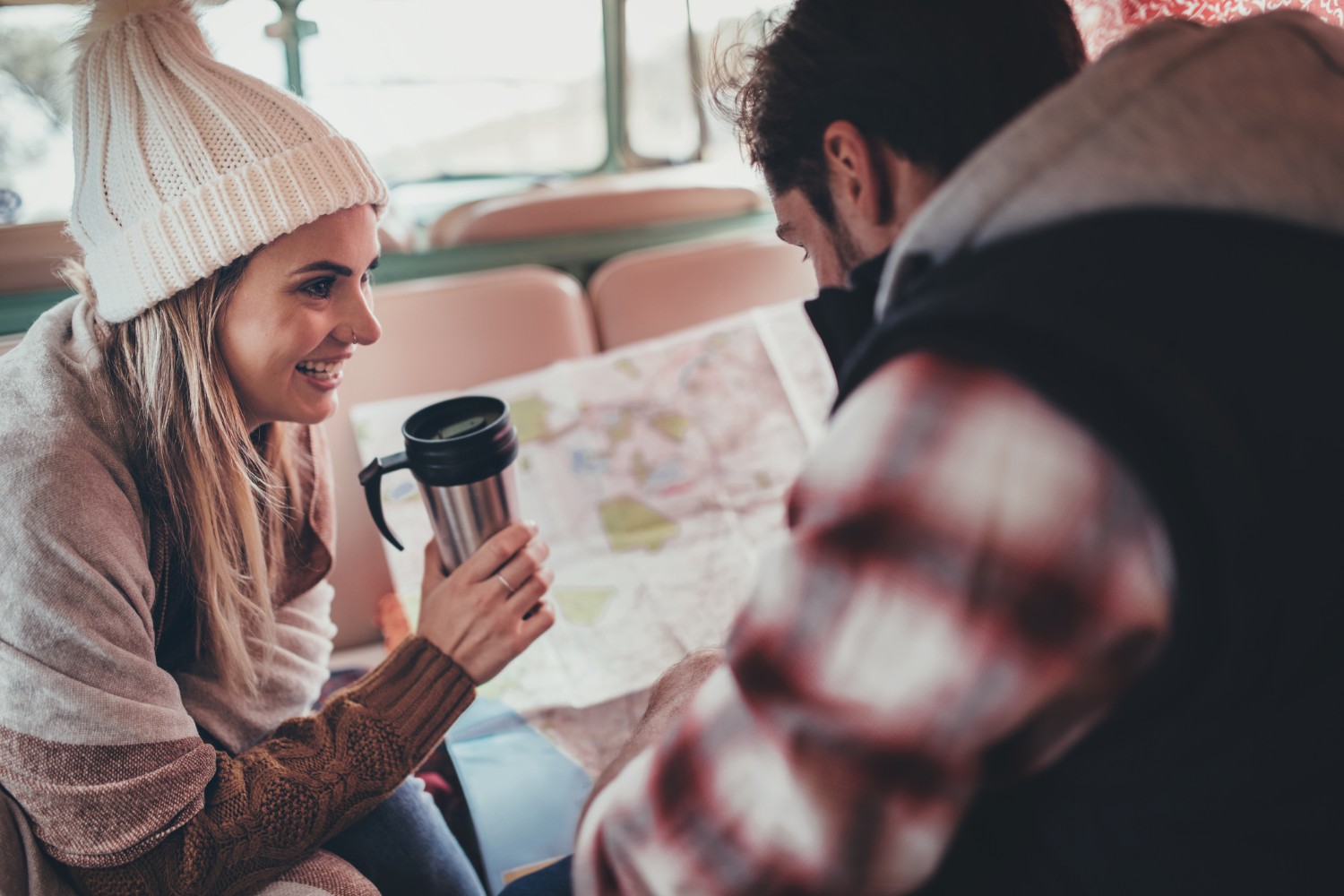 Seattle to Cannon Beach Via Portland
Driving through the middle of the state gives you the opportunity to discover cultural centers like Seattle and Portland. Uncap your pen and take notes, because your bucket list is about to get longer!
1- The Emerald City (Seattle)
Seattle is a fantastic place to start your adventure. Not only is it a major hub due to the international airport, but it's also one of the closest cities around Cannon Beach. It makes sense that visitors come from there! Sea-Tac Airport welcomes has direct flights from all over the United States and Canada and has great options for car rentals.
You can't start a road trip hungry! After your flight, stop at the Pike Place Market! It's the perfect place to taste the fresh flavors of the Northwest. You can grab a seat at Pike Place Chowder and eat clams like Tom Hanks in Sleepless in Seattle! Next, get a bird-eye view of Seattle at the Space Needle and learn about the city's rock 'n roll heritage at the MoPop Museum. (Any Seattle Grunge fans out there? We love Nirvana, Pearl Jam, and Soundgarden!) Needless to say, Seattle is a cultural hub. You can even visit the filming locations of your favorite movies, like cult classics Say Anything and Singles.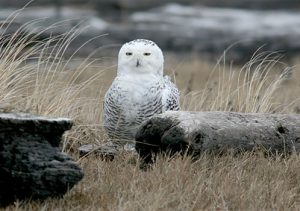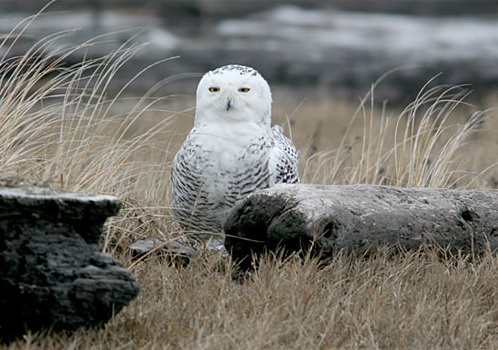 2- Bachelor Island
Lewis and Clark discovered this gem of an island in 1805, and it's now a wonderful destination for nature lovers and history buffs alike! Only 30 minutes north of Oregon on the Columbia River, Bachelor Island is the perfect place to get out of the car and explore. Pack your binoculars and a camera to capture the beauty of the wetlands. You may even see colonies of great blue herons!
3- Mount St. Helens
Indulge in a hike before you cross the border into Oregon! Mount St. Helens is a gorgeous spot for the adventurous at heart. Marvel at the beauty of this stunning volcano and go on the adventure of a lifetime when you hike to the top! With so many cool things to see, we recommend you narrow down your preferences. Do you want to roam through the Lava Cast Forest and June Lake? Or, do you wish to explore the mysterious Ape Caves? The choice (and fun!) is yours!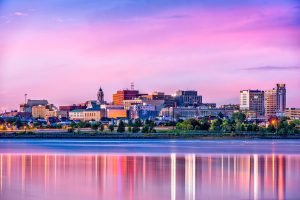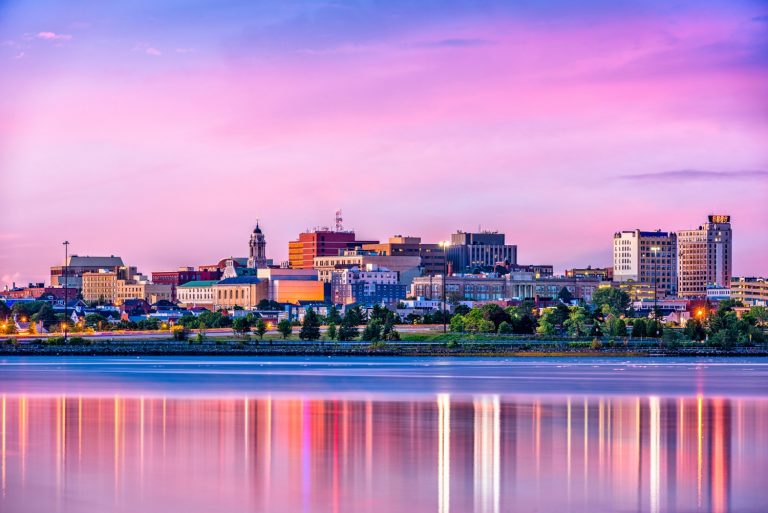 4- Portland
Experience the unique, edgy city of Portland, Oregon! Foodies love to taste all of the delicious wine, beer, and food around town. Grab a bite at Screen Door, a restaurant that offers the perfect mix of Southern flavor and Northwest freshness. Then, when it's time to digest, take a walk through the Lan Su Chinese Garden or explore the Freakybuttrue Peculiarium Museum! It's full of odd artifacts that will make you feel like you stepped into another dimension. Fun is guaranteed, especially if you're with your friends!
End the day by celebrating Portland's music scene and catch a show at Mississippi Studios. From comedy shows to concerts, this venue has everything you need for a fun night out!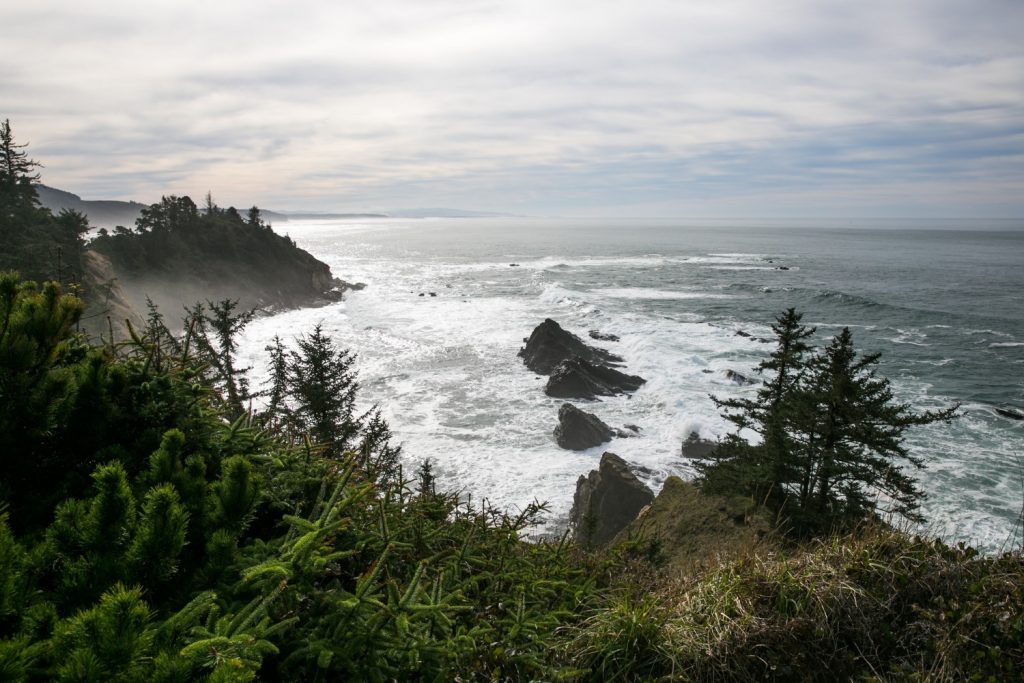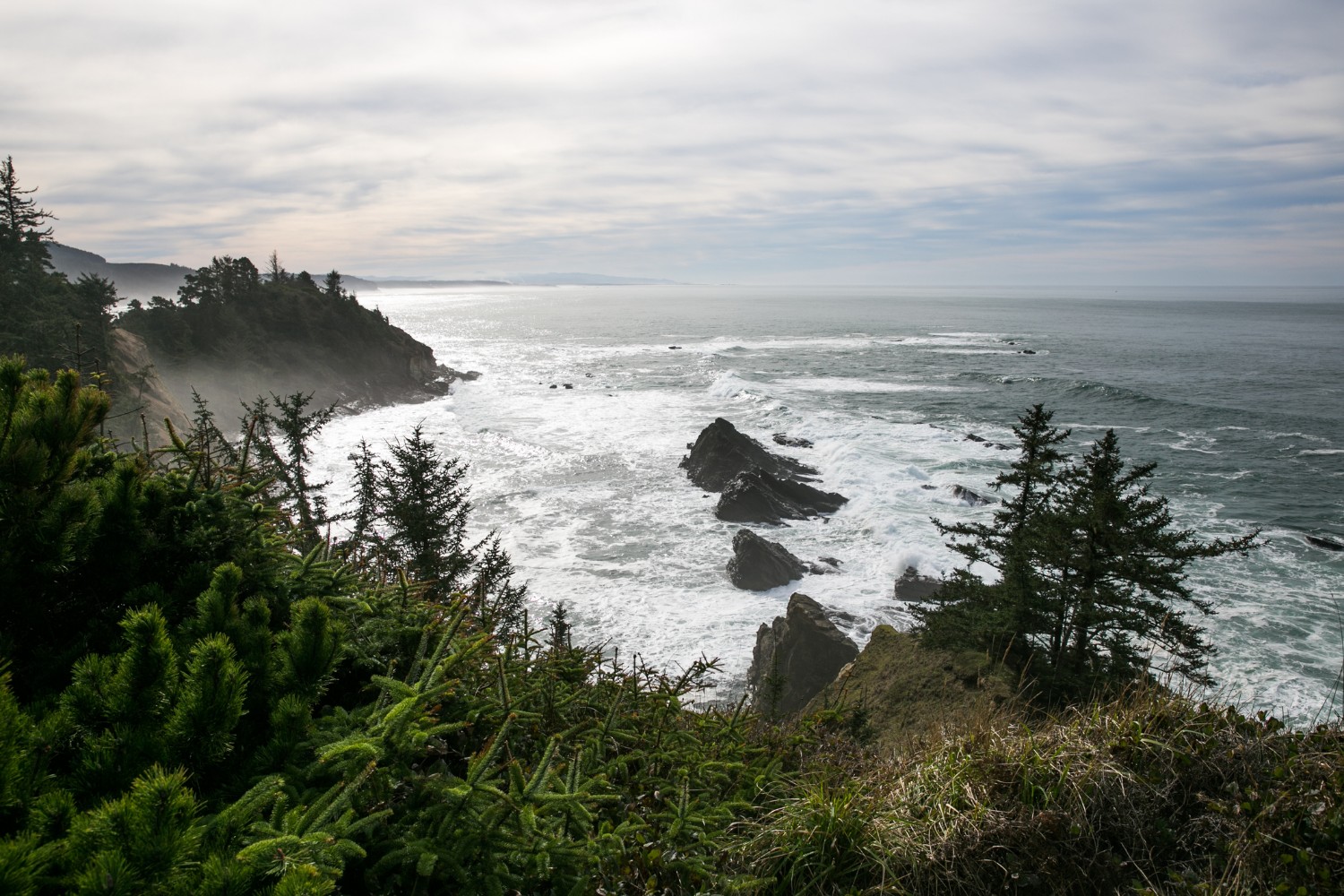 Seattle to Cannon Beach Via the Highway 101
For those who wish to drive along Oregon's scenic beaches, the Highway 101 route from Seattle to Cannon Beach is a perfect choice! Here are the top spots you have to see as you make your way down the coast.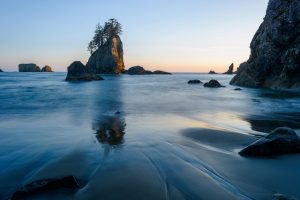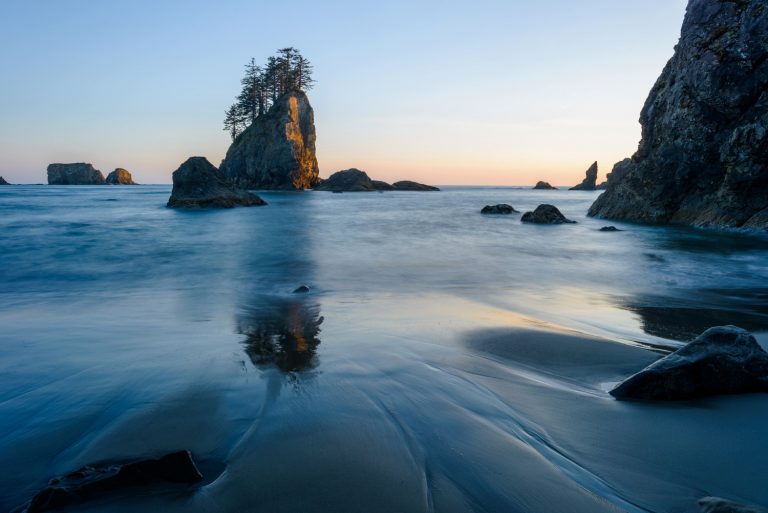 Olympic National Park and La Push
What if we told you that right after leaving Seattle, you'll experience miles of raw and untouched nature? Embark on a coastal adventure at the magnificent Olympic National Park and discover a million acres of wonders in Washington. The park features 70 miles of coastline, rainforests, mountains, Native American reservations, and jaw-dropping wilderness. Go on a backpacking trip to La Push Beach for a scenic picnic overlooking the ocean!
Cape Disappointment Lighthouse
After you leave La Push, you'll pass iconic spots like Long Beach (the world's longest beach), Quinault Giant Sitka Spruce (a 191-foot spruce that's 1,000 years old), and, of course, Cape Disappointment. Don't be fooled by the name; it's a marvelous place to explore away from the crowd! A short hike through the woods takes you to the first lighthouse built in the Pacific Northwest. With fog covering the state of Washington for an average of 106 days per year, this lighthouse is one of the most important in the country. In fact, 2,000 ships have sunk in this area since 1792.
Parking is available at the Lewis and Clark Interpretive Center, but note that the interior of the lighthouse is not open to the public. You can, however, get some magnificent views from the beach and the lighthouse grounds.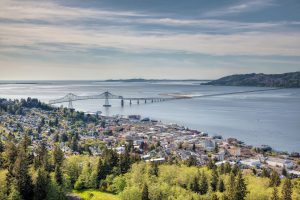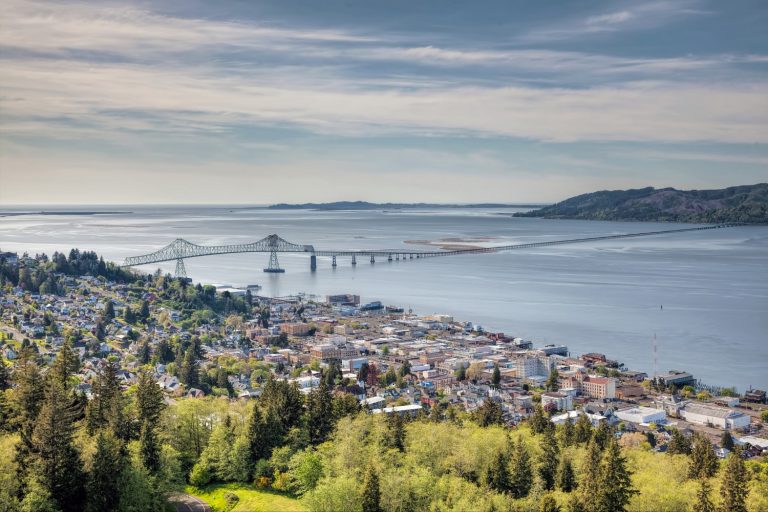 Astoria
You're almost in Cannon Beach! Before you arrive, make a stop at the quaint town of Astoria. We can already hear Goonies fans screaming internally; yes, this is where the famous Steven Spielberg movie was filmed back in the 1980s! Visit the Oregon Film Museum in the Clasp County Jail to relive the opening scene of the Goonies. Next, admire the impressive Astoria Column. This 600-foot tall monument is covered with hand-painted designs and makes for the perfect Instagram shot. Before hitting the road again, relax and have a handcrafted beer at Buoy Beer Company. Locals recommend it all the time, so you're sure to get excellent food and drinks!
Ecola State Park
Last but not least, make it a priority to stop at Ecola State Park before entering Cannon Beach. This pristine park is one of Oregon's most popular attractions. It includes the Oregon Coast Trail, one of many routes traced by Lewis and Clark in 1806, and offers gorgeous views at Ecola Point and Indian Beach. The park is also one of Oregon's top whale watching spots! Remember to bring your wallet; a $5 entrance ticket is required to access the park.



Stay at the Most Scenic B&B in Cannon Beach!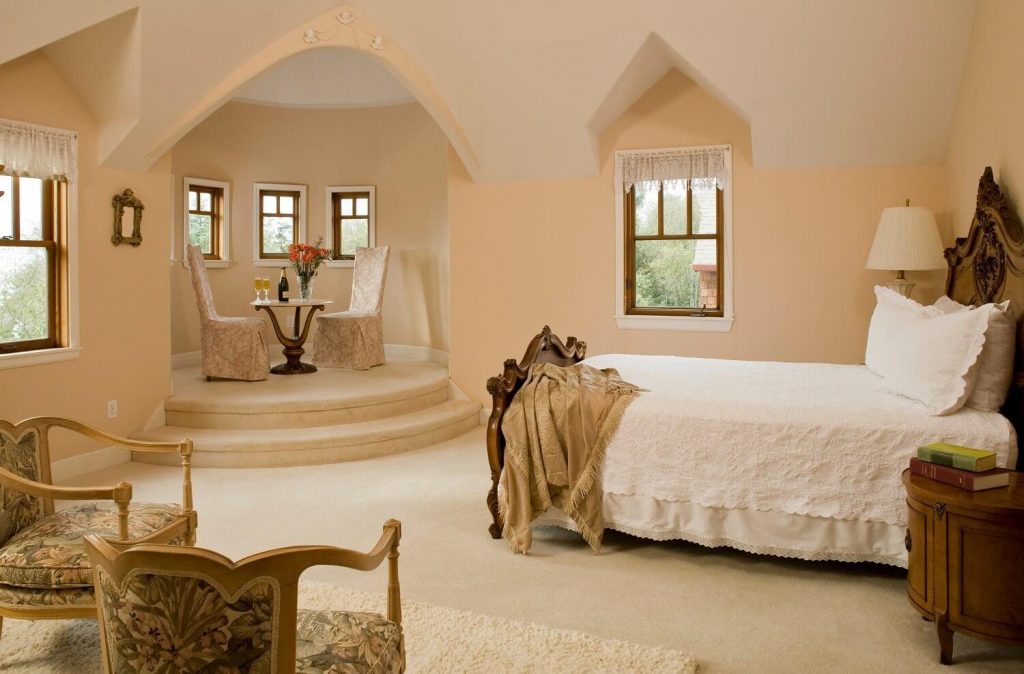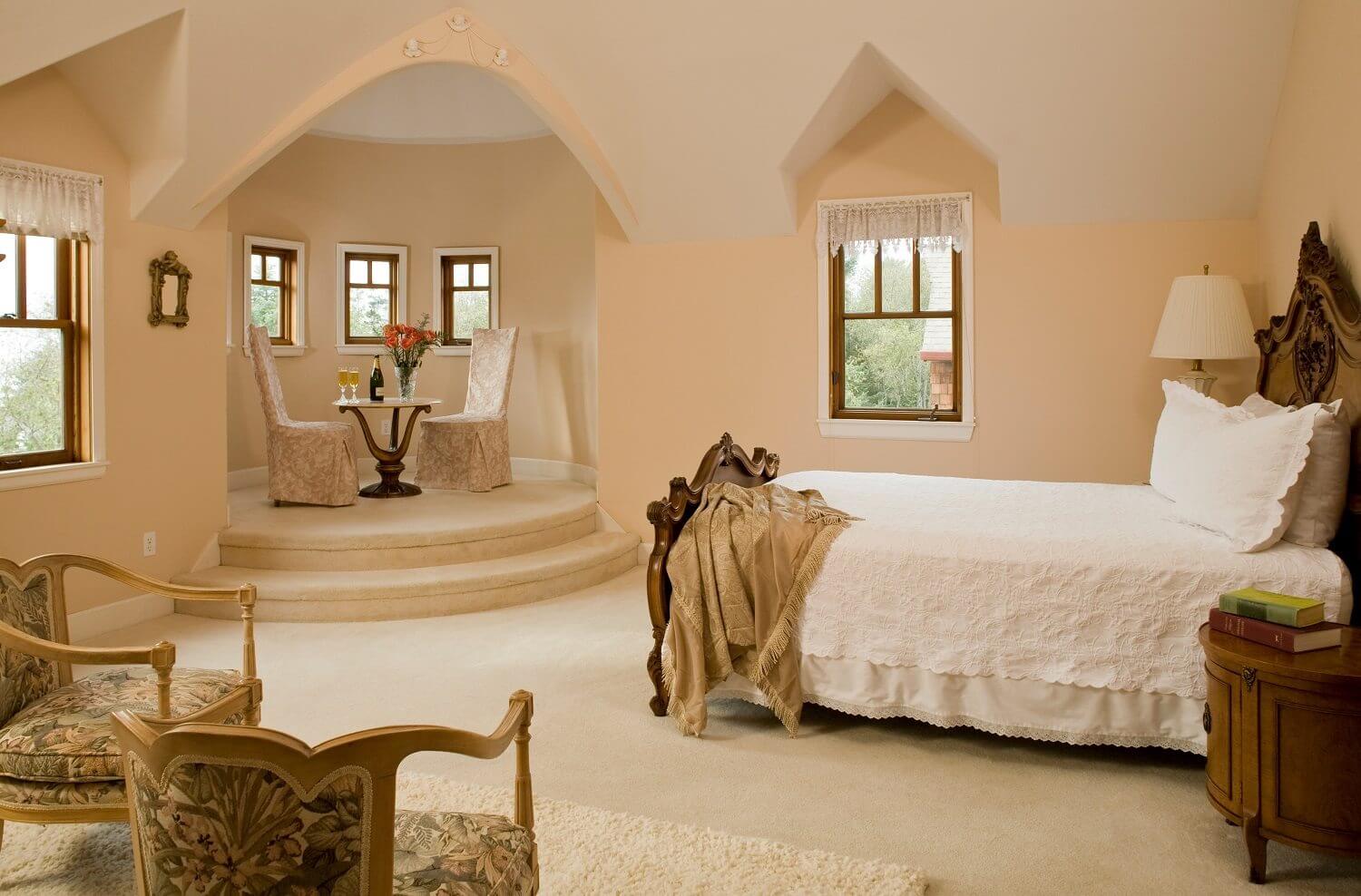 You've done it! You finally arrived in beautiful Cannon Beach, and we bet the ride was a marvelous adventure. Don't let the fun end here! Come and enjoy the serenity of Oregon at Arch Cape Inn, the best B&B in town. Experience the charm of our Old-European atmosphere, castle-like property, and beautifully decorated rooms with lovely views of the ocean in the distance.
Take a look at our Tower Room, for example! With its spacious sitting area and Louis XIV decor, it's the perfect room for a romantic getaway with your significant other. There's even a private bathroom with a stall shower and a deep soaking tub. Did we mention you get to wake up to a delicious homemade Breakfast each morning?