Breakfast at Arch Cape Inn
We invite you to escape from your everyday life and experience the true flavors of the Oregon Coast
James Beard, one of America's most loved and respected culinary authorities spent much of his life on the Oregon coast. He wrote, "Those busy days on the Oregon Coast left their mark on me, and no place on earth, with the exception of Paris, has done as much to influence my professional life." Beard's favorite local ingredients included tiny wild strawberries, razor clams, salmon, and mussels, among many others. 
Our Breakfast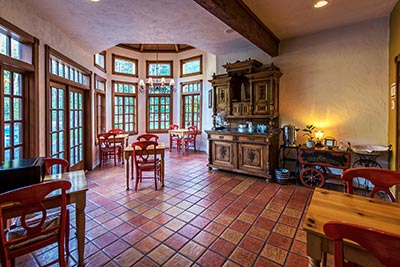 A complimentary gourmet offering is included each morning of your stay.  Breakfast is available from 8:30am to 10am each day and served via menu options. Breakfast served in our intimate dining room overlooking our kitchen gardens. Enjoy breakfast before setting out for a beach walk or a driving tour along the coast.  We can accommodate "Early-Uppers" or "Sleeper-Inners" with a modified version of our delicious morning offerings. 
Our Coffee 
Start your morning with our special signature coffee, brewed by Cannon Beach's Sleepy Monk Coffee Roasters. It is ready for sipping at 8:00 a.m. each morning. Called "Sleepy Monk Monastery Blend", our signature coffee is said to "Keep the French Roast lovin' monk awake without the bitter bite." It is a dark, rich robust coffee, certified organic and free trade blend from our local Sleepy Monk roasters.
Our Specialties
We pride ourselves on catering to your unique needs. If you are flying in from another time zone, we can help you adjust to Pacific Time by having an early morning snack available for you.
At the Arch Cape Inn, we are committed to providing wholesome and healthful meals. Our chefs are able to make necessary adjustments to accommodate any dietary needs such as allergies or particular food dislikes and gluten-free, dairy-free, egg-free, vegan, kosher, halal or paleo diets.
Simply contact us to make your dietary request.