You might be asking yourself, "When is the best time of the year to visit the Oregon Coast?"  Lucky for you, you've landed on the right page. You could say any time of the year is ideal for a trip to Oregon, and you would be right! Our stunning and mysterious state leaves visitors and locals alike in awe with its glorious landscapes, foggy beaches, and Redwood Forests. To help you prepare for your trip, we've created a seasonal list of all the items you should pack for your Oregon Coast Adventure. Read on and take notes!
A Seasonal Guide to Packing for Your Oregon Coast Adventure
The weather is Cannon Beach is unpredictable. The day may start out with rain before turning into a beautiful sunny afternoon. To help you pack for your upcoming trip, we've gathered some general information about each season here, but remember, always be prepared for sudden changes!
SPRING
Weather: Spring is the second busiest season in Cannon Beach (after Summer). Although it can be humid, the temperatures are still fairly cold in the spring. Typically, temperatures stay between the mid-50's and mid-60's, and the area receives between nine and 18 days of rain each month this season.
What to Pack: Sweaters and socks are your best friends. Bring coats and windbreakers as well as rain boots and umbrellas.
Things to Do: Spring is a marvelous time to get out into nature and observe the rich fauna around. Pack a pair of binoculars in your suitcase and go birding on the Oregon Coast!
SUMMER
Weather: Weather is considered at its best in Cannon Beach during the summer. You can expect warm temperatures, especially in July! It ranges from the mid-60s to the lower 80s. July also happens to be the driest month of the year, so if you're not a fan of rain, this is an excellent time to plan a trip..
What to Pack: You'll need a broad range of clothes: tee-shirts, long-sleeved shirts, a couple of sweaters for later in the day, a light coat, hiking boots, an umbrella, and a scarf!
Things to Do: There's no other activity like hiking in the summer on the Oregon Coast. Surrounded by magnificent forests, Cannon Beach hiking trails are perfect for an afternoon activity with routes for every skill level.
FALL
Weather: Fall in Cannon Beach feels chilly.  On the flip side, tourism is slower, so you can experience the town like a true local.
What to Pack: Think layers. You want to be able to adapt no matter what the sky looks like every morning because it can, and will, change throughout the day. Pack long-sleeved tee-shirts and sweaters, rain boots, beanie, gloves, and a wind jacket.
Things to Do: Fall is a great season for storm watching! There's nothing like watching mother Nature unleash her fury while all snuggled in a warm blanket and drinking hot cocoa.
WINTER
Weather: Winter is the rainy season in Cannon Beach. You should expect cold temperatures, lots of rainfall, and a cold wind blowing from the Pacific. Temperatures during the day usually remain in the 50s, but can drop to the 30s at night.
What to Pack: You want to pack a lot of layers like sweaters, long-sleeved shirts, socks, warm coats, rain boots, beanies, gloves, and an umbrella.
Things to Do: Every year in the winter, nature gifts us with a breathtaking spectacle, and you too can be a part of it! Whale watching in Cannon Beach is a popular attraction, and the cold, rainy months of winter offer the best chance of seeing these majestic creatures.
Arch Cape Inn Is a Good Idea All Year Long!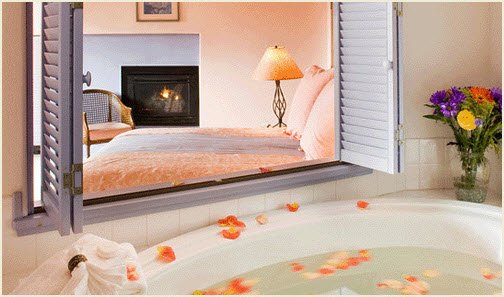 Make the right choice for your vacation and pick Arch Cape Inn! Our lovely B&B is one of the most stunning accommodations in Cannon Beach, and its French chateau-inspired style offers an authentic Oregon Coast experience. Come and see for yourself! You'll enjoy a variety of modern comforts, elegant amenities, and high-end service.
Browse our accommodations today!  Spend the night in our Gauguin Room. Immerse yourself in the Tahiti environment, inspired by the French artist, with framed prints on the walls and a gorgeous bathtub that opens up into the room. Cozy up by the fireplace with a glass of wine, then get a good night's sleep in the luxurious sheets of the queen bed. Wake up the next day, and join us downstairs for a delicious, homemade breakfast!