Experience the stunning beauty and rich history of the Oregon coast at Hug Point, Oregon, one of the best state recreation sites on the coast. Only five miles south of Cannon Beach, this hidden gem offers convenient beach access, picnic areas in the forest, and a short walkway to the sandy cove beach. Venture north to discover seasonal waterfalls, fascinating sandstone caves, and tide pools teeming with marine life. The lush hills surrounding the beach are blanketed with salal, ferns, and Sitka spruce, creating a breathtaking backdrop for your coastal adventure. 
When visiting Hug Point, Oregon, one vital thing to consider is the tide schedule. It's possible to get stranded if you head out to the point at the wrong time of day. Tides change with the seasons, so be sure to check the most recent report before heading out. Historically, the tides played a significant role in transportation in the area, as before the highway was constructed, this stretch of beach was the only way to traverse this part of the coast. 
Before you start planning your visit to Hug Point, Oregon, you'll want to secure your lodging, and our Oregon Coast Bed and Breakfast is one of the best places to stay. Our romantic and intimate inn stands like a castle on the coast, and our guest rooms offer couples and solo travelers a dreamy escape to the shores of the Pacific Ocean. We're located under ten minutes from all of the popular attractions of Cannon Beach but set back a bit off the beaten path for one of the most comfortable and unforgettable getaways. Check out our availability and book your room today!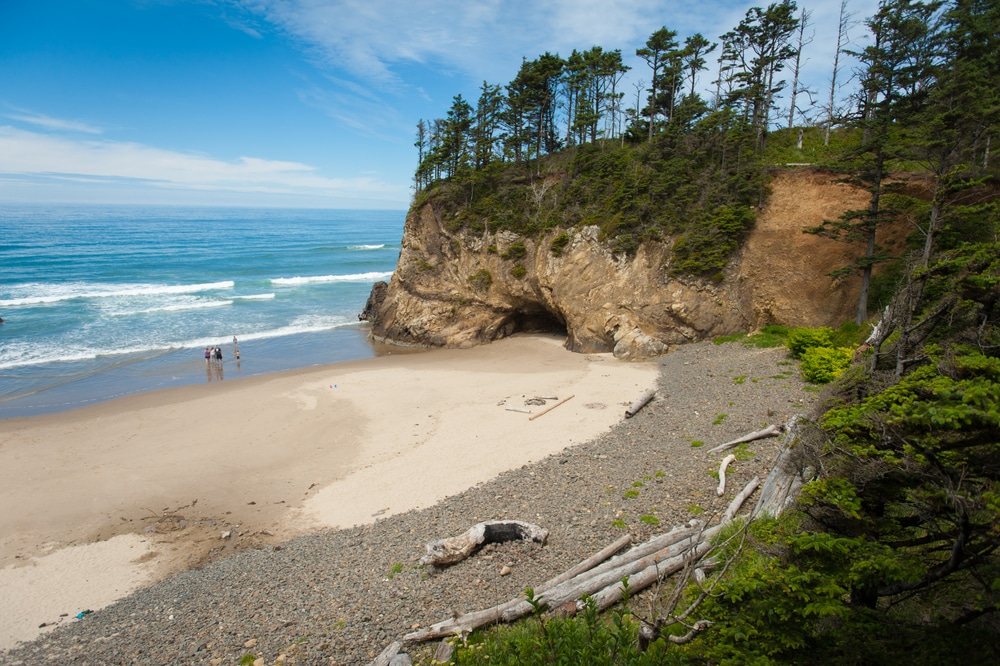 The Breathtaking Beauty of Hug Point, Oregon & More Parks
There's so much to explore at Hug Point! As a guest at our Oregon Coast Bed and Breakfast, you'll only be a quick car ride to Hug Point, Oregon, be sure to join us for a lovely breakfast each morning, the best way to start your adventures on the coast. You'll be fueled and ready to explore the area's hiking trails, waterfalls, and long sandy shorelines. 
Hug Point State Recreation Area is often one of the most memorable stops along the coast. First, you'll want to head down to the beach from the parking area. Enjoy this sandy stretch with stunning rock formations. If you've timed it right for low tide, you can head out to the cove that isn't accessible at high tide.
There's the Hug Point waterfall and caves to explore, and plenty of tide pooling opportunities to see starfish and marine life. This is also a fantastic spot for birdwatching. Hug Point is listed as the number two best thing to do in Cannon Beach on TripAdvisor; many reviews state that they stayed longer than expected at this beach, so plan ahead and pack up a picnic! 
Here are a few more Oregon Coast State Parks to check out during your visit: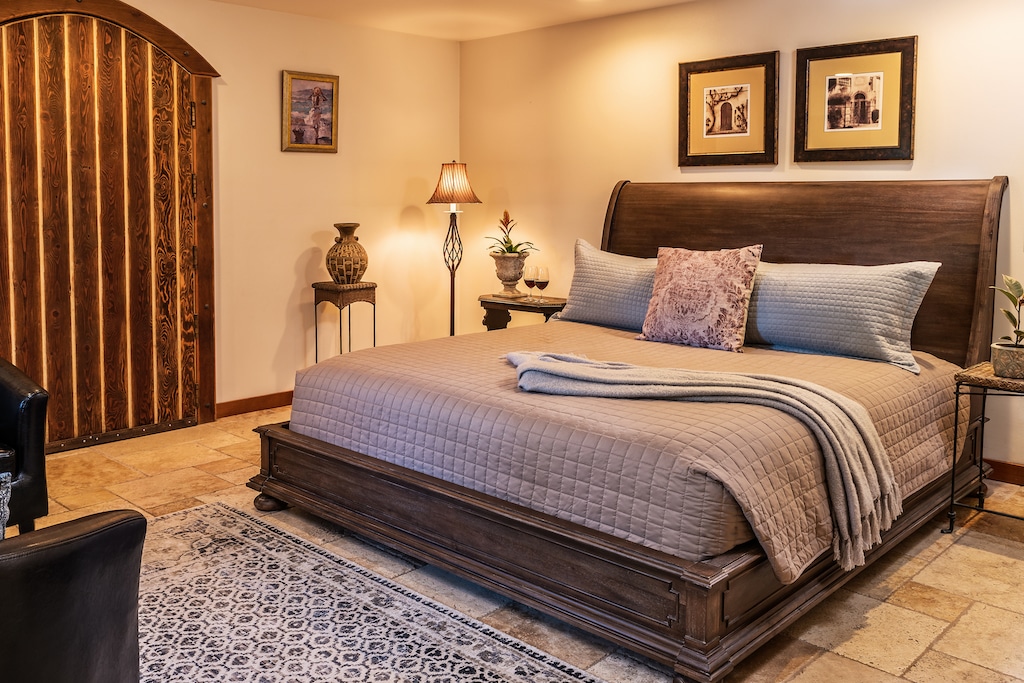 The Most Luxurious Oregon Coast Bed and Breakfast
After a long day exploring the beach at Hug Point, Oregon, or the other fantastic state recreation areas on the shore, you'll be ready to relax, and that's where our luxurious Oregon Coast Bed and Breakfast comes in. Our elegant oceanside retreat is the perfect place for romantic getaways, couples traveling together, and solo retreats. Each of our ten guest rooms offers an oasis of calm for a restful trip to the beautiful coast. 
The Tuscan Spa Room (pictured above) is one of our choice suites with king size bed, a private sauna, a spa-like en suite bath with an open shower with two rain fixtures, and a cozy seating area around the fireplace. This room is spectacularly finished in Italian tile and stone throughout. It's truly a remarkable space to create memories and unwind together. 
In the morning, we'll take care of your breakfast with a homemade, seasonal menu prepared with skill and care. Breakfast is available daily from 8:30 am to 10 am and served via menu options. Our lovely morning meal is served in our intimate dining room overlooking our kitchen gardens. We're happy to accommodate dietary restrictions when possible; please allow us ample time to prepare and alert us at the time of your reservation. We can't wait to host you; book your room at our Oregon Coast Bed and Breakfast today!