With the holidays just around the corner and the New Year on the horizon, there's no better time to start planning your next weekend getaway! The scenic (and quick!) drive from Portland to Cannon Beach is one of the ultimate road trip destinations. In less than two hours, you'll be entirely transported by the stunning and rustic scenery of the Oregon Coast—truly one of the most beautiful in the country! The majestic swaths of golden sand beaches, rugged cliffsides, unique rock formations, and the calming sounds of ocean waves beckon you from the city for a getaway in nature. 
Cannon Beach is a gem on the Oregon Coast—a relaxed small town many artists and retirees call home. While the population barely reaches 1,500 for year-round residents, the area attracts more than 750,000 visitors annually, who visit the beautiful beaches, soak up the sunshine, enjoy craft beer and lovely meals, and, best of all, tuck into some much-needed downtime. There are so many fantastic things to do on your trip from Portland to Cannon Beach! 
What makes all of these adventures even better? When you choose to stay at our elegant Oregon Coast Bed and Breakfast. The Arch Cape Inn stands like a European castle on the beach—less than ten minutes from the main tourist area of Haystack Rock. The charming town of Arch Cape is the perfect destination for your Portland to Cannon Beach road trip. Travel + Leisure magazine named our Inn a "naturally romantic chateau," and it's the ideal backdrop for a quick weekend getaway, romantic retreat, or solo trip to refresh. Our ten guest rooms are all beautifully designed and equipped for the most restful stay! Book your lodging at our Oregon Coast Bed and Breakfast today!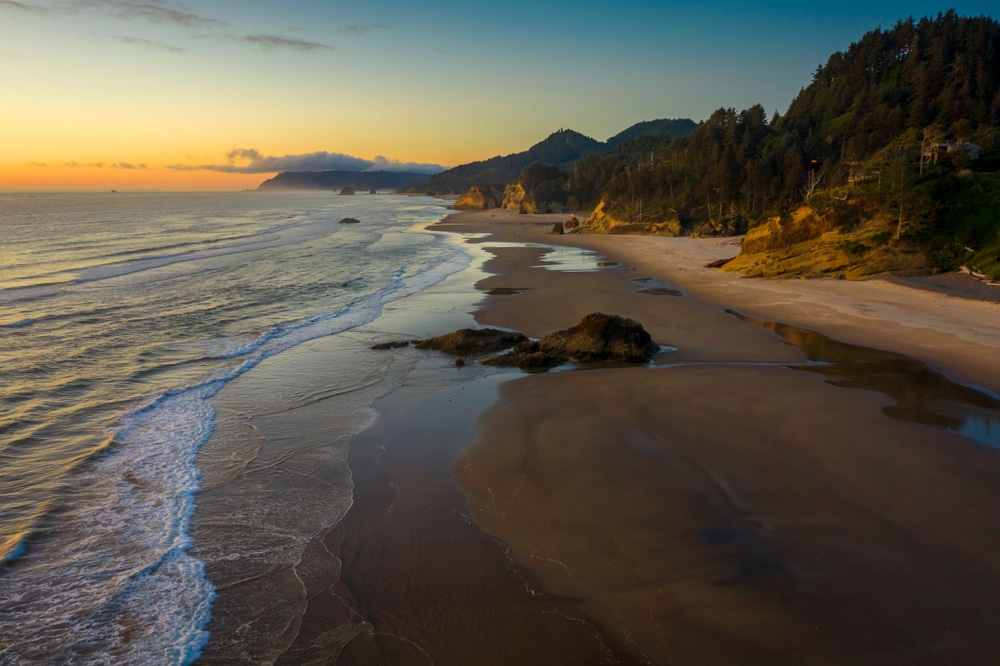 Portland to Cannon Beach: the Best Things to do Here
On your road trip from Portland to Cannon Beach, you'll head out directly west on Highway 26. With the city skyline in the distance, the road opens up to rolling hills and farmland, but before you know it, the landscape will turn to lush trees of the Tillamook and Clatsop State Forests as the roadway cuts between the two.
Eventually, the Coast will be in your sightline; there's nothing quite like seeing the beautiful expanse of the Pacific Ocean framed by rugged sandstone cliffs. The route from Portland to Cannon Beach is only about 80 miles—an easy trip to escape from the city for a quick weekend or extended vacation. 
You'll be ready to explore after checking in at our Oregon Coast Bed and Breakfast! Here are the best things to do in Cannon Beach: 
As you start planning your road trip from Portland to Cannon Beach, our Innkeeper and staff are always a great resource on the best adventures and activities! Feel free to ask for personalized recommendations during your stay.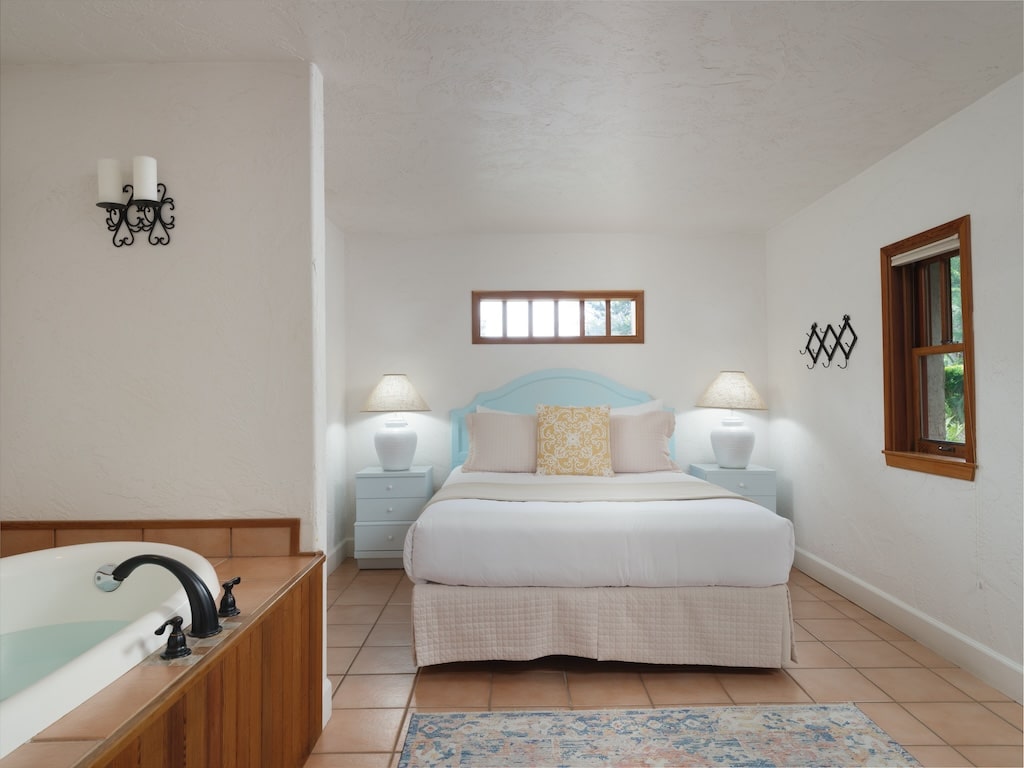 The Best Oregon Coast Bed and Breakfast for Lodging
Add a touch of elegance and luxury when you stay at our beautiful Oregon Coast Bed and Breakfast. We're located just over 80 miles from downtown—the perfect distance for a road trip from Portland to Cannon Beach. It's just enough time in the car to listen to your favorite tunes and spend some quality time together without distractions. Upon checking in to one of our ten guest rooms, you'll see that each suite is designed for relaxation and reconnecting. 
The Provence Room is a private suite on the garden level with handsome French doors leading to your patio and entrance to your room. It is furnished in antique pine and oak with terra cotta floors—the muted color palette and fine appointments make this space a haven for relaxation, including a gas fireplace for cozy nights in by the fire and an en suite jetted tub for bubble baths. This is one of the most romantic rooms at our Oregon Coast Bed and Breakfast! 
Each morning of your stay, we'll treat you to a chef-made breakfast with seasonal and local ingredients whenever possible. Enjoy a freshly brewed cup of coffee from local roasters, the Sleepy Monk, the perfect way to get your morning going before heading off to explore the best things to do in Cannon Beach! We're happy to accommodate dietary restrictions; please just let us know in advance. We can't wait to welcome you to the Oregon Coast on your road trip from Portland to Cannon Beach; book your lodging today!